I've been at the Red Hat Czech Republic office in Brno this week for meetings and RHEL-related work. But I organized the visit around this weekend's DevConf.cz event, a conference for free and open source software hackers in Europe. The organizers in the Brno office have done a fabulous job of putting this conference together. I arrived a little later than I wanted, just before the start of the first session. That was mostly because we were out far too late the night before, bowling and having Czech pilsner with friends in the hotel basement bar! Anyway, we joined a small queue where we picked up the agenda, a ticket to the Saturday night event, and a cute gift: Red Hat branded gloves. These would come in handy in the cold and snowy, but beautiful, Brno weather this weekend!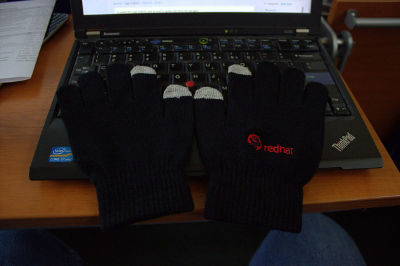 I headed to the first DevConf.cz talk of interest to me, on color management. This talk mainly covered the current state of color management in Linux. It didn't give me a lot of new information, but it was well done. The speaker did mention some of Richard Hughes' work on colord. He also mentioned the ColorHug device for calibrating screen displays to get correct color. I need to pick up one of these! He also covered the OpenICC group's formation. I have to admit, I was still just waking up, and didn't have as much attention to give here as the topic deserved. So I apologize for the lame recounting here.
Next I sat in Debarshi Ray's talk on GNOME Online Accounts (GOA) for users and developers. Debarshi did a great job showing how GOA works in GNOME. He had some videos that show accessing online documents from a local desktop. In the developer section, he also explained some current problems with increasingly popular 2FA schemes, and with specific service integration through GOA. Despite significant issues with some underlying frameworks needed for better GOA support, there are smart people working to solve these issues in GNOME, which was good to hear. This will give the platform a better foothold on the seamless sharing users have learned to expect.
My energy started to flag at this point, so I grabbed a quick cup of caffeinated soda and ran back upstairs to see Tom 'spot' Callaway's talk. His topic was improving the Fedora user experience through design-driven methodology. I saw a version of this talk at FUDCon in Lawrence, Kansas, where it generated excellent audience interaction. I was curious to see how it was received in Brno. I was happy to see a huge turnout for this talk here at DevConf.cz. UPDATE: Spot's slides are here (ODP format).
Spot talked about focus on user experience as the first step in development process, as opposed to "let's write code now, and make this pretty later." This is not a path that many open source development projects take, but it's one that tends to produce great results for recipients. Spot followed up with some intriguing examples:
The new HyperKitty system that allows users and contributors to interact in ways they prefer. HyperKitty also can help raise the signal to noise ratio by allowing forum-like ratings of posts.
A mockup of a Fedora Smorgasbord app-store like application to succeed PackageKit, and abstract away confusing details users don't need when trying to install or update.
A mocked up solution to reduce friction when filing bugs, and frustration when dealing with them.
A Fedora Badges app to produce better user affinity in Fedora. Badges can also give some insight into what users are doing, from running specific applications to participating in community events.
I stayed in the same room to hear Leslie Hawthorn talk about negotiation theory in FOSS projects. (You can find an excellent summary of the topic in this post on Leslie's blog.) A fundamental lesson I took away was often we prevent a great result because we care more about a conversation's outcome than our goals. Leslie is an entertaining and engaging speaker and I really enjoyed this talk. Hopefully I'll get to hang out with her a bit at DevConf.cz. I feel like we've crossed paths often before, but somehow miss each other through happenstance.
And since I just used the word "happenstance," I think it's time to end this post and get lunch. Stay tuned for part 2 of DevConf.cz day 1!