Yesterday I received one of these. Fedora 11 installed beautifully on it, without a hiccup — I used the process I outlined in my last post, in fact. The results speak for themselves: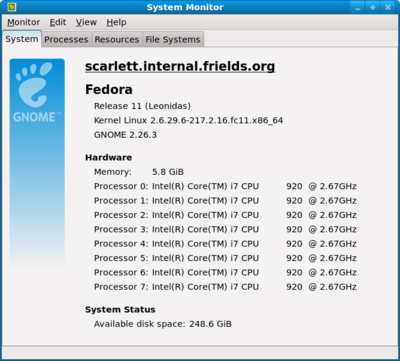 I may be a bit gushing about it, but it's the first truly performance-oriented, new computer I've had in a long time, after many years of hand-me-downs and Frankenboxes assembled from spare pieces. The first computer I ever bought for myself, as opposed to gifts, or things I used at the office, was a Dell. Nowadays my main laptop is a Dell XPS M1330, which is no slouch but definitely has to make a few compromises for size. So I'm happy to keep up the tradition with this (admittedly gargantuan) box.
The inside layout is incredibly clean and neat, and well-lit too, with a built-in LED lamp so you can see what you're doing. For extra scratch, you get the case with the clear inserts so you can see the innards of the behemoth, which I didn't particularly need. When you first turn it on it's like an SR-71 warming up, but it quickly becomes surprisingly quiet for such a powerhouse. It is incredibly large though, so big that I can't actually fit it on the raised platform under my desk. It's now living to the side, and my mixer had to scootch back into the corner a bit to make room.
Nice extras: Came with a standard PCI 33MHz slot that accommodated my Echo Audio Layla24 PCI card quite handily. Also, as my wife noted, "the darn thing's got wings" — extra supports that fold out at the rear to keep the box well balanced. And a umpteen-way media reader that reads, well, everything from SmartMedia to MemoryStick Duo Pro. Scary extra: Emits an unearthly glow from a set of front-mounted headlights when turned on, useful for distracting enemy ninjas but otherwise puzzling. I guess it's designed to be a gamer's system after all, but still.
It may dwarf every other box I own, but it's a lot of fun to use, and of course Fedora is an incredible joy to use on such a performance monster. Time to go put it to good use!